In order to make you look and feel your best, we provide a variety of cutting-edge aesthetic procedures at our clinic. With Dr. Sneha Kovi, the leading cosmetologist in Guntur we offer a comprehensive range of advanced aesthetic treatments tailored to your unique needs and desires. The Q-switched Nd:YAG laser, advanced diode laser, Plaxcel plasma, several types of chemical peels, and radio frequency cautery are just a few of the modern dermatology technologies that we are equipped with.
What makes Dr. Sneha Kovi, the best cosmetologist in Guntur?
Dr. Sneha Kovi is specially trained in Aesthetics after completing her MD in dermatology. She can achieve outstanding outcomes by using cutting-edge methods and equipment. She is dedicated to giving patients the procedures that are both safe and efficient and produce results that seem natural. She also provides individualized consultations to assist you in selecting the therapies that are best for you and developing a treatment strategy that is catered to your requirements.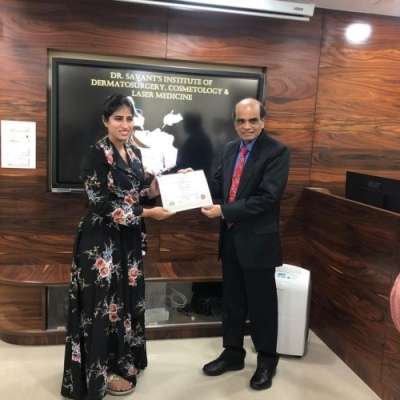 We offer thorough Cosmetic Procedures like:
Unwanted Hair Removal
Many people experience discomfort and disappointment due to unwanted body and facial hair. We provide laser hair removal, which is a safe and efficient hair removal method. Patients can experience long-lasting effects and smooth, hair-free skin with the right maintenance and care.
Tattoo removal
The method of laser tattoo removal involves removing undesirable tattoos from the skin. Tattoo removal used to be a challenging and painful treatment, but with the development of laser technology, it has become simpler and pain free. All colors and sizes of tattoos can be removed with our Q-switched Nd:YAG laser which is the most advanced laser. 
Skin whitening treatment
Skin whitening treatments use a variety of products and methods to lighten the skin's tone or lessen the visibility of pigmentation and dark patches. Chemical peels, laser therapy, and microdermabrasion are just a few of the procedures we provide to help rehydrate and brighten the skin.
Depigmentation and Repigmentation
Depigmentation is the intentional fading or removal of pigmentation from the skin. When specific parts of the skin exhibit darker patches or uneven pigmentation, such as in vitiligo or melasma, it is often done to treat hyperpigmentation issues. Repigmentation is the process of repigmenting skin regions that have become depigmented or lost their color. It is frequently used to restore color to the damaged white patches in situations like vitiligo. We provide a variety of treatments, including laser therapy and chemical peels, to address problems with skin pigmentation, including depigmentation and repigmentation.
Face Lifts
A face lift is a procedure used to refresh the face and lessen the appearance of aging. To achieve a more youthful and elevated appearance, it involves tightening the underlying facial muscles, removing extra skin, and repositioning the skin. Face lifts can address a variety of issues, such as deep wrinkles, sagging skin, and lost face contour. Under the guidance of the leading Cosmetologist in Guntur, we provide a variety of non-surgical facial rejuvenation procedures, such as thread lifts, dermal fillers, and Botox injections.
Birthmark Removal
Birthmark treatment involves steps or methods intended to lessen the appearance of birthmarks on the skin. Birthmarks are colored patches or spots that may appear at birth or develop soon after. There are a variety of birthmark treatment options, including laser therapy, surgical removal, and topical medicines, depending on the nature and location of the birthmark.
Skin tag removal
A typical method used to get rid of skin tags is referred to as skin tag removal. Skin tags are soft, flesh-colored or slightly darker skin growths that commonly appear in regions where skin rubs against skin or clothing, such as the neck, armpits, groin, or eyelids. Electrocautery, cryotherapy, or surgical excision are all options for removing skin tags.
Reshaping of the chin, cheeks, and jaw
Reshaping of the chin, cheeks, and jaw refers to cosmetic operations intended to improve or change the shape and appearance of these facial features. These procedures can improve the balance and harmony of the facial profile or target certain issues like a weak chin, flat cheeks, or an uneven jawline. Treatment options include dermal fillers, surgery, or a mix of the two, depending on the desired result.
How does the recovery process go?
Depending on the treatment you receive, your recovery process will change. However, the majority of treatments involve little to no recovery time, and you can usually return to your regular activities right away. To ensure that you know how to care for your skin and minimize any adverse effects, Dr. Sneha Kovi, the top cosmetologist in Guntur will give you thorough post-treatment instructions.
At our clinic, we recognise that every patient is different, and we take the time to hear your wants and worries. In order to exceed your expectations, we are dedicated to providing compassionate, individualized treatment. So, whether you're searching for a straightforward skin glow treatment or a more complex procedure, we invite you to explore our selection of aesthetic treatments and learn how we can support your aesthetic objectives. Make an appointment for a consultation with us right now to get started on the path to a more assured, energetic you.
Various Cosmetic Treatments Offered by our Cosmetologist in Guntur
Botox
Laser Hair Removal
Dermal Fillers
Chemical Peels
Microdermabrasion
Hydrafacial
Laser tattoo Removal
Thread Lifts
Semi Permanent Makeup
Skin Boosters
Scalp Micropigmentation
Laser Toning
Explore Our Popular Cosmetic Treatments
Our Patient's Testimonials
Best Cosmetologist in guntur,
Best laser treatment,
Fast results with less sittings,
Highly recomended
Ajay Mehar
Dr.sneha kovi did a great job she explained everything to me in very clear manner.she takes time with patient to listen your concerns! I highly recommend her to any one looking for dermatologist
Bulla Nireekshana
Dr. Sneha Kovi, is an extremely knowledgeable and skilled doctor. She maintains her professionalism in every consultation but at the same time make sure the environment is as friendly and comfortable as possible.
Raj Teja
Schedule your appointment today with the best Cosmetologist in Guntur