We are here to help you achieve healthy and glowing skin. We provide a variety of cosmetic treatments, including HydraFacial, a cutting-edge non-invasive facial treatment that combines deep cleansing, exfoliation, extraction, hydration, and antioxidant infusion in a single full session.
What is Hydra Facial?
HydraFacial is a multi-step facial treatment that uses advanced technology to cleanse, extract, and nourish the skin. It is appropriate for all skin types and tackles a variety of common skin issues, such as fine lines, wrinkles, clogged pores, uneven skin tone, and hyperpigmentation. Specialized HydraFacial equipment is used for the procedure, which produces outstanding results by delivering a blend of serums that are specifically designed for each patient.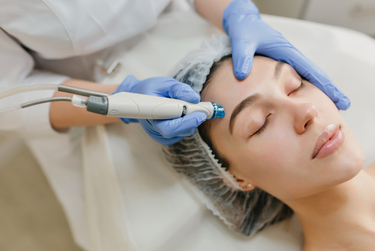 Hydra Facial procedure
Our skilled cosmetologist will carefully examine your skin during a HydraFacial session in order to determine your specific needs and goals. Hydrafacial involves the following steps:
Exfoliation and washing: The procedure starts with a thorough washing of the skin, which is then gently scrubbed away to reveal a glowing, new complexion.
Gentle extraction: Blackheads, whiteheads, and other skin debris are removed from the skin effectively by using unique Vortex suction technology, which is helpful in extracting impurities without any discomfort.
Hydration and nourishment: Following this, a variety of specialized serums are injected into the skin to replenish moisture, enhance skin texture, and improve overall skin health. These serums deeply hydrate the skin and support a youthful and refreshed appearance
Customized Boosters: The HydraFacial treatment can be supplemented with extra boosters to target particular issues. The effects may be further improved by these boosters, which may focus on fine lines, hyperpigmentation, or skin suppleness.
Protection and Maintenance: To protect your skin and preserve its fresh glow, a protective moisturizer, and sunscreen are applied as the hydrafacial's final phase.
Why you should go for a Hydra Facial?
Improved Skin Tone and Texture: HydraFacial improves skin texture by reducing hyperpigmentation, and evening out skin tone. This results in a complexion that is smoother and more refined.
Reduced Fine Lines and Wrinkles: The procedure can assist in minimizing fine lines and wrinkles, providing a more youthful and revitalized appearance.
Quick and comfortable: There is no downtime necessary for the mild, non-invasive HydraFacial process. The treatment is convenient for those with busy schedules because it normally lasts 30 to 45 minutes.
Long-lasting Results: You can enjoy long-lasting results and continuous enhancements in the health and appearance of your skin with regular HydraFacial treatments and good skincare maintenance.
Our team of skilled experts, led by Dr. Sneha Kovi, is committed to assisting you in realizing your skincare goals and bringing out your inner beauty. To learn more about hydra facial's revolutionary effects and to get started on the path to healthier, more beautiful skin, schedule a consultation with us right away.
Contact us to know more about Hydrafacial