To help you achieve a glowing, youthful complexion, we provide advanced cosmetic solutions. Microdermabrasion, a non-invasive process that can improve the appearance of your skin and treat a number of skin issues, is one of the popular procedures we provide.
What is Microdermabrasion?
Microdermabrasion is a safe and efficient exfoliating method that eliminates the top layer of dead skin cells leaving behind smoother, lighter, and healthier-looking skin underneath. It involves using a specialized tool that emits tiny crystals or a wand with a diamond tip to gently exfoliate the skin. The process is good option for people looking for an instant skin refresh because it is secure, relatively painless, and doesn't include any downtime.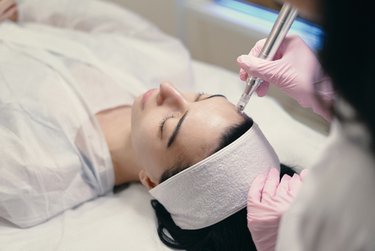 What are the various skin concerns addressed by microdermabrasion?

Uneven skin tone and texture

Fine lines and wrinkles

Sun damage and age spots

Acne and acne scars

Enlarged pores

Dull and tired-looking skin
There is little to no downtime after microdermabrasion. Immediately after the procedure you can have some moderate redness or irritation, but these side effects usually go away within a few hours. Most people can return to their regular activities right after the treatment
A series of treatments spaced a few weeks apart is usually advised to get the best results. Your specific skin needs and goals will be taken into account as we create a personalized treatment plan just for you.
We're committed to assisting you in getting the beautiful, healthy skin you deserve. All throughout the procedure, our cosmetologist Dr. Sneha Kovi will ensure your comfort and safety. Make an appointment with us to begin your journey to healthier skin. 
Know more about Microdermabrasion by contacting us