Though it is an upsetting and embarrassing condition, you don't have to suffer in silence if you have hair loss. I'm Dr. Sneha Kovi, a hair transplant surgeon in Guntur. I and my team are here to help you regain your confidence with advanced treatments that deliver natural-looking results. Being a Skin and hair center with dermatologists, we are the pioneers in performing the best hair transplantation in Guntur. We provide a comprehensive hair transplantation program, from identifying the reasons for hair loss, designing the hairline, assessment of the density of hair to postoperative treatments for thick and rich hair in the transplanted area. 
What is a Hair Transplant?
Hair transplantation is a minimally invasive surgical treatment that involves transplanting hair follicles from one part of the scalp (the donor site) to another area (the recipient site) to stimulate hair growth in places where hair loss has occurred. There are two types of hair transplantation procedures Follicular Unit Transplantation (FUT) and Follicular Unit Extraction (FUE) are the two different forms of hair transplantation techniques. We provide FUE hair transplants at our Hair Transplantation center. 
FUE Hair Transplant
The hair transplant procedure known as FUE (Follicular Unit Extraction) involves taking individual hair follicles from the donor area, which is often the back of the head, and transplanting them to the recipient area, where hair is balding. 
Without making a major incision or using stitches, the follicles are extracted one by one using a specialized tool. In comparison to other hair transplant procedures, this indicates that there is little downtime and scarring. The outcomes of FUE greatly exceed those of FUT, leaving the hair with a high-quality, natural finish. Many people seeking hair restoration prefer FUE because it has a number of benefits over conventional hair transplant techniques.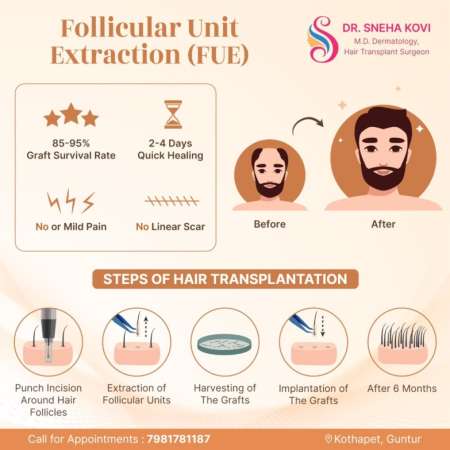 Benefits of FUE Hair Transplantation
Minimally invasive: FUE involves small incisions to extract and transplant the hair follicles when compared to other hair transplant procedures.
Less scarring: In the donor area, FUE leaves tiny, dot-like scars that eventually heal and disappear. The linear scars left by other hair transplant techniques, such FUT, are rather noticeable.
Faster Recovery: FUE has a short recovery period, and patients can resume their normal activities within a few days to a week.
Preservation of donor hair: FUE enables selective extraction of individual hair follicles, preserving the overall density of the donor area. This is especially advantageous for people who have few donor hair grafts available.
No stitches required: Since the incisions created during FUE are so small, they do not need to be closed with stitches. The small incisions are left exposed to heal naturally. 
Who is a suitable candidate for hair transplant surgery?
Male pattern baldness and female pattern baldness are normally treated through hair transplantation, but it can also be used to regrow hair in regions where it has been lost due to injury or scarring. However, not everyone qualifies for the surgery.
We will thoroughly assess your hair and scalp during your appointment to decide if hair transplantation is the best course of action for you. The degree of your hair loss, the quantity, and quality of your donor hair, as well as your general health, will all be taken into account.
What to anticipate throughout the Hair Transplantation procedure?
Depending on the severity of the patient's hair loss and the number of grafts required, hair transplantation treatment is an outpatient surgery that normally takes several hours to perform. 
We will use local anesthesia to numb the donor and recipient areas before the procedure. Depending on your specific requirements, we will design the hairline accordingly and then remove the donor hair follicles using the FUE method. We will then make small incisions in the recipient site and then carefully place the hair follicles into these incisions, ensuring that they are placed at the correct angle and direction to achieve a natural-looking result.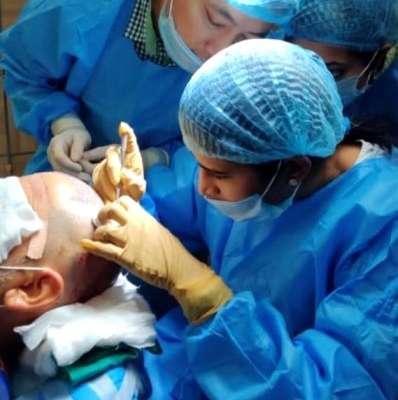 Recovery and Result
You can suffer some swelling, pain, and redness in the donor and recipient areas following the procedure. These adverse effects, meanwhile, are usually minor and should go away in a few days.
To guarantee the best outcomes, follow our post-procedure instructions. This can include taking an antibiotic, refraining from intense activity for a few days, and covering your scalp from the sun. The majority of patients typically experience a noticeable increase in hair thickness and density six to nine months after the operation. 
With the right maintenance and care, you may anticipate permanent, natural-looking results that can boost your self-esteem and make you happier with the way you look.
Hair Transplant before and after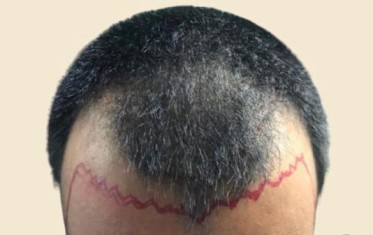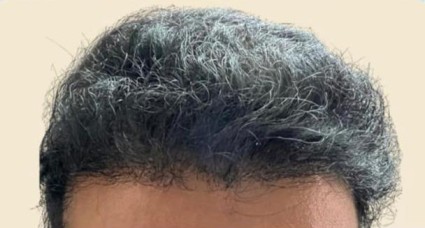 Contact Us to Discover More
Don't hesitate to contact us if you have any questions about hair transplantation or if you are interested in the procedure. You can reach your hair restoration goals and restore your confidence with our assistance.
Frequently Asked Questions:
Is Hair Transplant a Permanent solution?
Yes, hair transplantation is regarded as a long-term solution for hair loss. The hair follicles that are transplanted are from scalp regions that are resistant to hair loss and will grow naturally in their new site.
Is Hair Transplantation a safe procedure?
Yes, hair transplantation is typically regarded as a secure and successful technique. However, there are risks involved with the process, such as infection, bleeding, and scars, just as with any surgery.
Will the new hair appear natural?
Yes, the transplanted hair will feel and look natural when done properly. To produce a natural-looking outcome, we will consider elements including hairline placement, density, and growth direction.
Is a hair transplant painful?
Following the treatment, the majority of patients only experience mild discomfort or soreness, which is often manageable with over-the-counter pain medications. In order to minimize any pain or discomfort, we use local anesthesia to numb the scalp throughout the process.
Are there any side effects with hair transplantation?
Hair transplantation has few side effects, such as infection at the transplant site, bleeding or bruising, swelling, scarring, itching, or temporary numbness, just like any surgical operation. However, the risks of problems and adverse effects can be reduced with good preoperative assessment, expert surgical procedures, and appropriate postoperative care. 
Explore our other hair treatments
Our Patient's Testimonial
Dr. Sneha is wonderful. She is the best in Hair transplantation in Guntur! She is very professional, well informed and up to date with latest technology and treatments. She gives you all the details before and lets you take a well informed decision, she is definitely not pushy which we see in many Aesthetic doctors these days. For a genuine and affordable treatments you can definitely approach Dr. Sneha. Thank you Dr.Sneha!!
I've travelled many cities for the treatment and which cost me my valuable time and wasting money and around that time I heard about Dr. Sneha Kovi at her own clinic at Guntur and consulted her. After about 4 months of treatments, I was literally surprised to see that hair fall has gradually stopped and I was so happy that a lot of reduction in my hair fall all thanks to her.
From last one year I was so tensed from my hair fall. I tried lots of remedies and oils shampoos and many more products but then got recommended to Dr Sneha . Instantly I visited there. Dr Sneha treated so well. Asked all the queries and behaved so genuinely. I am truly thankful to Mam and her staff.🙏❤️
Sahithi Sandeep
Google Review
Sriharsha Sana
Google Review
Transform your look and Confidence with advanced Hair Transplantation in Guntur