We provide state-of-the-art solutions for a range of hair restoration needs. Scalp Micropigmentation (SMP), a non-invasive process that can improve your appearance and self-esteem, is one of our very successful procedures.
What is scalp micropigmentation?
Scalp micro pigmentation involves dotting the scalp with specialized pigments that replicate the look of hair follicles. It is a good option for those who wish to achieve the look of a closely cropped hairstyle or a fuller head of hair but have thinning hair, receding hairlines, or complete hair loss.
Scalp micropigmentation procedure
During the Scalp Micropigmentation procedure, our knowledgeable cosmetologist uses micro-needles to implant microscopic pigment spots into the scalp. These dots are positioned to resemble the size, form, and color of real hair follicles. A natural result is ensured by customizing the method to your desired hairline and density.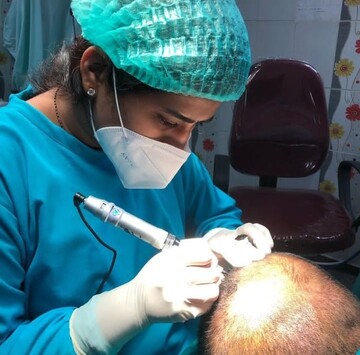 Benefits of Scalp Micropigmentation
Results that Look Natural and Realistic: The pigments used in SMP are carefully chosen to match the color of your natural hair, giving a flawless blend and a hairline that looks real.
Safe and non-invasive: Scalp micro pigmentation is a non-invasive, safe process that doesn't require anesthesia, stitches, or recovery time. It is a safe and efficient procedure with minimal risks or adverse effects.
Immediate results: Scalp Micropigmentation gives you results right away after just a few sessions. You will immediately see the results, which will give you the appearance of having more hair on your head.
Low maintenance: After treatment is finished, little maintenance is needed. Scalp micro pigmentation is a long-lasting remedy that just occasionally needs to be touched up to keep it looking its best.
Customizable: Scalp Micropigmentation is flexible and customizable, allowing you to achieve the ideal hairline and specific needs.
Is Scalp Micropigmentation suitable for everyone?
Scalp micro pigmentation is a flexible procedure that can be used on both men and women who are experiencing different levels of hair loss. It can be customized to treat various balding patterns, such as receding hairlines, thinning crowns, and total baldness. During a consultation, our skilled experts will evaluate your unique case of hair loss to determine whether Scalp Micropigmentation is the best course of action for you.
We understand how losing your hair might hurt your self-esteem. With our cutting-edge Scalp Micropigmentation procedure, we hope to restore your confidence and give you the appearance of having more hair.
To arrange a consultation and learn how Scalp Micropigmentation can improve your appearance and self-confidence, get in touch with us right now. Our skilled team is committed to giving you outstanding service and individualized attention so you can become the best version of yourself.