We provide innovative cosmetic treatments that enhance your natural features. We offer a semi-permanent cosmetic solution that will give you effortless, long-lasting beauty while saving you time and boosting your self-confidence. With our expertise and experience, we guarantee results that blend with your style and look.
What is semi-permanent makeup?
Micropigmentation, another name for semi-permanent makeup, is a cosmetic technique in which pigments are applied to the skin's surface to provide the illusion of makeup. It's a method to highlight and define particular features, such as brows, lips, and eyeliner. Semi-permanent makeup offers a long-lasting option that helps streamline your beauty routine in contrast to regular makeup, which must be applied and touched up daily.
What are the different semi-permanent cosmetic procedures we provide?
Eyebrow Enhancement
Whether you want to fill in thin eyebrows, change the way they appear, or create a more defined arch, our eyebrow enhancement process could give you naturally appearing and perfectly shaped brows.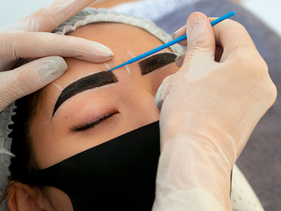 Lip Tattooing
Lip tattoo enhances the shape, color, and definition of your lips. Depending on your preference, we can offer a delicate tint or a more striking color, giving you beautifully enhanced lips that look soft and natural.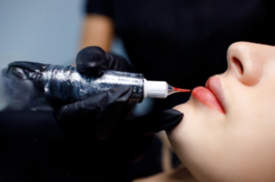 What are the benefits of semi-permanent makeup?
Time-saving: Semi-permanent makeup allows you to streamline your everyday beauty regimen and save significant time. You'll have wonderfully defined features when you wake up that just need minimum additional makeup.
Lasting results: Semi-permanent makeup can stay for months to years, unlike conventional makeup that dries out over the course of the day.
Customizable and Natural Appearance: To achieve a natural and attractive appearance, we carefully choose pigments that match your skin tone and hair color. To fit your particular preferences, you can also customize the makeup's form and intensity.
Confidence Boost: Semi-permanent makeup can bring out your best features, increase your self-esteem, and give you a polished, put-together look at all times.
We recognize that beauty is found in the smaller details. Our semi-permanent makeup service is designed to draw attention to your individual features and give you a free, flawless appearance that lasts. We work to provide results that are natural-looking, improve your facial features, and bring out your inner beauty through our rigorous attention to detail and cutting-edge procedures. Set up a consultation right now, and allow us to help you achieve your desired look.
Contact us to enhance your look