We provide a wide variety of cutting-edge cosmetic treatments to help you attain healthy, radiant skin. Laser toning, a non-invasive process intended to address numerous skin issues and encourage a smooth, even-toned complexion, is one of our most successful procedures.
What is Laser Toning?
Laser toning, commonly referred to as laser skin rejuvenation, uses cutting-edge laser technology to address particular skin conditions. It is a non-ablative procedure, which means the skin's outer layer is not removed. Instead, it emphasizes increasing collagen production, minimizing abnormalities in pigmentation, and enhancing the overall texture of the skin.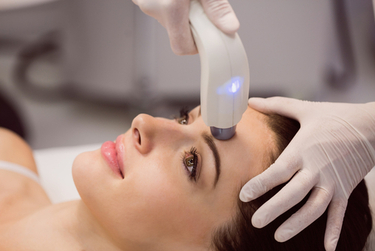 What Can Laser Toning Treat?

Hyperpigmentation: Sunspots, age spots, and melasma are all examples of hyperpigmentation that laser toning may effectively target and lighten. It contributes to the breakdown of extra melanin in the skin, resulting in a more uniform skin tone.
Acne Scars: By promoting the generation of collagen and enhancing the general texture of the skin, laser toning can help to lessen the appearance of acne scars. It encourages the development of healthy skin cells, giving the complexion a smoother appearance.
Fine Lines and Wrinkles: Laser toning's collagen-stimulating actions can assist to reduce the visibility of fine lines and wrinkles, giving your skin a more supple and young appearance.
Skin Tightening: Laser toning stimulates the synthesis of collagen and elastin, two substances necessary for preserving the flexibility and firmness of the skin. Giving you a more toned and youthful appearance, it can help to tighten loose or sagging skin.
Overall Skin Rejuvenation: By enhancing the texture, tone, and clarity of the skin, laser toning results in overall skin rejuvenation. You will have skin that is softer, smoother, and more youthful-looking.
We are committed to assisting our patients in reaching their skincare objectives. Modern equipment is used to perform Laser Toning procedures by our highly qualified personnel, providing safe and effective outcomes.
Laser toning may be the best option for you if you want to improve the texture of your skin, lessen pigmentation irregularities, or appear younger. To arrange a consultation and learn more about how Laser Toning can help you achieve smooth, even-toned skin, get in touch with us right away.