Use dermal fillers to enhance your beauty and give your face its fullness. To meet your specific demands, we will deliver excellent dermal filler treatments. With the knowledge of our cosmetologist, Dr. Sneha Kovi, we can get results that look natural and enhance your face features while also giving you more confidence.
What are Dermal Fillers?
Dermal fillers can enhance facial contours, restore volume, and smooth out wrinkles when injected precisely beneath the skin. They are composed of various substances, such as hyaluronic acid, collagen, or calcium hydroxylapatite, which are safe and compatible with the human body.  Dermal fillers give you an instantly noticeable, youthful, and refreshed appearance.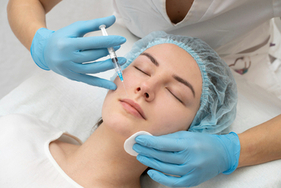 How can dermal fillers help in enhancing your appearance?
Reduces wrinkles: Dermal fillers successfully reduce wrinkles and fine lines, including marionette lines, smile lines, and nasolabial folds, giving the skin a youthful appearance.
Lip Enhancement: By adding volume and definition to your lips, they can give you the lips you've always wanted or the lip symmetry you've always wished for.
Cheek augmentation: They can enhance cheek volume, enhancing facial features and giving the face a more lifted and youthful appearance.
Jawline definition: They can be positioned along the jawline to improve definition and produce a more sculpted and balanced appearance.
Under-eye rejuvenation: They can minimize dark circles beneath the eyes, diminish the appearance of hollow under-eye areas, and give you a relaxed, rejuvenated appearance.
Nose Reshaping Without Surgery:  They can enhance nasal contours and address flaws if you wish to make subtle adjustments to the shape of your nose.
Your safety and comfort are our top priorities at our clinic. Only FDA-approved dermal fillers are used, and the procedure is carried out with strict safety and cleanliness guidelines. We are dedicated to providing a welcoming and relaxing setting where you can feel secure and well-cared for.
We encourage you to schedule a consultation with us if you're thinking about having cosmetic treatments. We will assess your particular concerns, discuss your intended results, and develop a tailored treatment plan that is in line with your objectives during the consultation.
Schedule an appointment with us to know more about Dermal Fillers