Dermatologist in Guntur
Dr. Sneha Kovi
Consultant Dermatologist, Trichologist and Hair Transplantation Surgeon at Dr. Paruchuri Raja Ram Memorial Skin, Hair & Laser Centre, Guntur.
snehakovi77@gmail.com
+91 – 79817 81187
Facing unending skin and hair issues?
Dr. Sneha Kovi, the best dermatologist in Guntur is here to help you
The Dr. Sneha Kovi Clinic, a one-stop solution for all your skin problems, stands as one of the best skin clinics in Guntur for our outstanding services and modern treatments. Under the leadership of Dr. Sneha Kovi, the top dermatologist in Guntur, we have treated many patients with well-advanced surgical equipment and also with safe and result-driven methods. Our team of top dermatologists are experts in understanding skin and hair problems and giving the best treatments for the problems that are being faced by our patients and treating them with impeccable solutions. Also, the technology used in the process conforms to the highest international quality standards and safety norms, giving you an overall satisfying experience. Dr. Sneha Kovi provides treatments using cutting-edge technology and works to achieve our vision and mission.
A note from the doctor
I'm the third generation dermatologist from our family. I was inspired greatly by my grandfather, Dr. Rajaram Paruchuri, in the early phases of my life and then by my aunt, Dr. Kavitha Athota, in later phases, who are most acclaimed dermatologist in Guntur, AP and India. With their guidance, I was trained under the best professors in the field, during my post-graduation. I was fascinated by the latest developments in the dermatology and found myself in passion with Aesthetics and Hair. This lead my journey into the Demato surgeries, Aesthetics, Trichology and Hair Transplantation. I went on to pursue these from some of the best dermatologist in the country. Completed my fellowship in trichology & Hair transplantation, and training in Aesthetics and dermato surgeries. My thirst to knowledge never dies, and that made me participate in many National and International conferences to improve and share my knowledge, skills, and give an International standard of Dermatological care to my patients.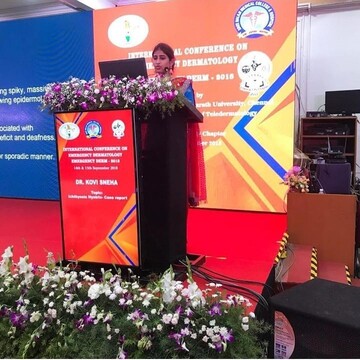 Cosmetic Treatments offered at our clinic
Skin and Hair Treatments offered at our clinic
Past Experiences
Junior Resident in Dept. of Dermatology, Sree Balaji Medical College and Hospital, Chennai, TN (2016- 2019)
Completed residency in Dermatology, Venereology and Leperology in this institute and am gaining experience in various areas of dermatology. Being a tertiary centre, exposed to a vide range of Infectious, Autoimmune and various other dermatological disorders including "The Emergencies in Dermatology".
MBBS
MBBS, 2014 – NRI Medical College, Guntur, AP under NTR University of Health Sciences
MD Dermatology
MD Dermatology, 2019 – Sree Balaji Medical College, Chennai, TN under Bharath Institute of Higher Education and Research.
Aesthetic Medicine
Aesthetic Medicine, 2019 – Mumbai.
Fellowship in Trichology and Hair Transplantation
Fellowship in Trichology and Hair Transplantation, 2019 – Dermaclinix, Delhi.
Trained at Dr. Anchala's Skin Institute, Hyderabad in Dermatosurgeries, Cosmetology and Lasers.
What our patients say about us
The best Dermatologist I have ever met. Dr. Sneha kovi is very friendly with her patients. She is Skillful and knowledgeable doctor. Her treatment and solutions for the problems are extremely effective and gives quick results.
Tejasri Muppera
She is very proficient, good treatment and fastly response in that field,TQ mam I very convenient and safety in your treatment
Meenakshi dhulipalla
Dr.sneha kovi did a great job she explained everything to me in very clear manner.she takes time with patient to listen your concerns! I highly recommend her to any one looking for dermatologist in Guntur
Bulla Nireekshana
Explore various treatments offered by the Top Dermatologist in Guntur
Frequently Asked Questions:
Why is Dr. Sneha Kovi, the Best Dermatologist in Guntur?
Dr. Sneha Kovi pursued comprehensive training under renowned professionals, excelling in fields like Aesthetics, Dermato Surgeries, Trichology, and Hair Transplantation. She listens attentively, answer questions, and tailor treatments to each patient's unique needs.
What services does the dermatologist offer?
The dermatologist provides a wide range of services including clinical dermatology, cosmetic treatments, skin, hair and nail treatments, and more. Explore our Services page for a comprehensive list.
How do I schedule an appointment?
Scheduling an appointment is easy! Simply give us a call at +91-79817 81187 during working hours.
Are virtual consultations available?
Yes, virtual consultations are available for certain conditions and concerns. Contact us to inquire about scheduling a virtual appointment.
Are cosmetic procedures offered at the clinic?
Yes, we offer a range of cosmetic procedures to address issues such as wrinkles, sagging skin, and more. Visit our Cosmetic Treatments page for details.
What should I expect during my first visit?
During your initial visit, our dermatologist will conduct a thorough evaluation of your skin condition, discuss your medical history, and recommend a suitable treatment plan suitable to your needs.
Make an appointment with the best dermatologist in Guntur for all your skin and hair issues.