For some people, hair loss can be distressing. It may result in social anxiety and despair. There are numerous reasons why people lose their hair, and the finest treatment regimens can both stop hair loss and even encourage new hair development. In the specialized discipline of trichology, numerous hair and scalp diseases, such as hair loss and thinning as well as infections and disorders of the scalp, are identified, treated, and managed. Dr. Sneha Kovi, a leading hair specialist in Guntur offers a wide range of trichology treatments that are specifically suited to your needs because she has a thorough awareness of the underlying causes of these diseases and a passion for providing individualized remedies.
Are you tired of your hair loss and are in search of a best Trichologist in Guntur?
Visit Dr. Sneha Kovi if you're looking for a hair specialist in Guntur to treat your hair issues. She completed her Fellowship in Trichology and Hair Transplantation at Dermaclinix in Delhi. Later, she received training in dermato surgery, cosmetology, and lasers at Dr. Anchala's Skin Institute in Hyderabad. 
Dr. Kovi has received specialised training in Trichoscopies, dermatoscopes, and other methods for the precise diagnosis of hair loss. She also offers cutting-edge therapies for hair problems, such as PRP hair treatment with special growth factors, Mesotherapy treatment, GFC Hair Treatment, low level laser light therapy. Additionally, she has received specialized training in hair transplantation and is a leading hair transplant surgeon in Guntur. Due to her abundance of knowledge in this field Dr. Sneha Kovi is recognized as the best Trichologist in Guntur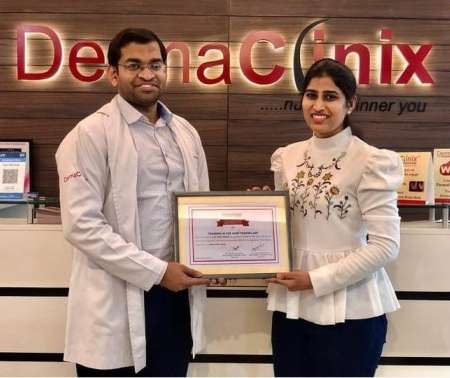 We offer various hair treatments in Guntur, including:
Hair Loss Treatment
 In order to encourage hair growth and stop further hair loss, we will help uncover the underlying causes of hair loss and offer individualised treatment solutions. We offer treatment for both men and women. Medication, Hair Transplant, Low Level Laser Therapy, and PRP Therapy are some of the different treatment options available for hair loss.
Hair Dandruff Treatment
We offer suggestions to lessen the severity of your dandruff and prevent it from returning, including anti-dandruff shampoos, creams, and lotions to lessen irritation and itching brought on by dandruff, essential oils like tea tree oil and lavender oil, which can help to reduce dandruff, and dietary and lifestyle changes.
Psoriasis of the scalp
We provide therapies to help alleviate psoriasis symptoms and soothe the scalp by recommending anti-psoriasis shampoos, performing phototherapy, which can help to decrease the proliferation of skin cells and reduce inflammation, and prescribing oral or injectable medications. 
Oily Scalp
Along with providing hair scalp treatment, we also offer advice on how to deal with an oily scalp, including suggesting suitable hair care products and offering suggestions on lifestyle modifications that may help reduce oil production.
Hair Breakage Treatment
We will determine the underlying reason for hair breakage and offer specialised treatment options to strengthen and restore your hair.
Hair Thinning Treatment
We will determine the underlying reason for hair thinning and provide customized treatment choices such as PRP, Low level laser therapy to promote hair growth and halt further hair loss.
Frequently Asked Questions:
When should you visit a Trichologist in Guntur?
If you have any of the following hair or scalp difficulties, such as hair loss or thinning, scalp conditions, excessive hair breakage, slow hair development, or hair and scalp damage, you may consider thinking about seeing a trichologist.
How can Dr. Sneha Kovi help?
She is the finest choice for all of your hair problems because of her specialised training in trichology. She first makes a diagnosis of your issue and then suggests the best course of action. For the accurate diagnosis of hair loss, she employs trichoscopy, dermatoscopes, and other techniques.
Which treatment is best for hair?
The most effective hair treatment depends on each person's particular hair and scalp condition, so speaking with a trichologist is the best method to figure out the best course of action.
How long does it take for trichology treatment to produce results?
Depending on the patient and the condition being treated, the time it takes to see benefits from trichology treatment can vary. While some people may experience benefits in as little as a few weeks, others can require several months of therapy.
What distinguishes trichologists from dermatologists?
While dermatologists and trichologists both concentrate on the diagnosis and treatment of skin and scalp issues, trichologists have a distinct area of expertise in hair and scalp health. Dermatologists provide a more comprehensive emphasis on the health of the entire skin, including the hair and scalp.
We are aware of the negative effects that hair issues can have on your general self-esteem and well-being. We're dedicated to giving you efficient, individualized hair treatments that address a variety of issues. Our team of professionals is here to assist you whether you're dealing with hair loss, or scalp problems, or simply want to improve the health and beauty of your hair.
You can anticipate observable improvements in hair growth, thickness, texture, and general hair health with our hair treatments. Don't let hair concerns hold you back any longer. Make an appointment with Dr. Sneha Kovi, the best hair specialist in Guntur to discuss how to achieve healthier, more attractive hair.
Explore various treatments offered by the leading Hair Specialist in Guntur
Our Patient's Testimonials
I have taken PRP session by Dr. Sneha in which I found very good result in first session itself.. M very happy to continue my further sessions by her and expecting to get great results n experience…
Dr priyanka Vudumula
I was worried about my hair fall and after a long research I came to know that only advanced treatment would help me out and with the work pressure I have ,I can't leave the city. At that time I came to know about Dr.Sneha and I consulted her , her way of treatment is just amazing and I found results within 2weeks
Srujan Reddy
She is very friendly and professional.She takes her time to explain her thoughts and walks us through the treatment options very patiently.Thank you..
Dhathri
Schedule your appointment today with the best Trichologist in Guntur