We're committed to assisting you in achieving beautiful and healthy skin. Our Medifacial treatment is a transforming experience that blends the best of medical-grade skincare with cutting-edge facial procedures, giving you a renewed and refreshed complexion.
What is a Medifacial?
Medi facial is a specialized facial procedure that goes beyond a regular facial. It is a thorough skincare routine that incorporates deep washing, exfoliation, extraction, hydration, and antioxidant infusion to address a variety of skin issues. This innovative procedure may be tailored to your particular skin type and demands,  ensuring personalized and effective results.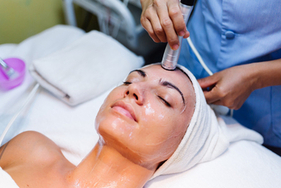 How does Medifacial work?
Our qualified skincare experts carry out the multi-step Medifacial procedure. During a Medifacial session, you can anticipate the following:
Consultation and Skin Analysis: We start by having a full consultation to learn about your skincare objectives and issues. To come up with the best course of action for you, our specialists will examine your skin.
Deep Cleaning and Exfoliation: The procedure begins with a deep cleansing step that clears your skin of pollutants, oil, and debris. A light exfoliation is then performed to remove dead skin cells and reveal a more radiant complexion.
Extraction (optional): To encourage clearer skin, we will remove any blackheads or congested pores using delicate, precise extractions if necessary.
Hydration and nourishment: A Medifacial entails injecting personalized serums that are made to treat the issues with your particular skin. These serums offer intense hydration and enhance the general health of your skin because they are packed with vitamins, antioxidants, and moisturizing components.
During the procedure, you'll receive a peaceful and unwinding facial massage. This facilitates lymphatic drainage, blood circulation improvement, and improved serum active ingredient absorption.
Mask and moisturizer: Your skin is treated with a specialized mask that targets issues like hydration, brightening, or firming. To lock in the advantages of the treatment and leave your skin feeling moisturized and supple, a moisturizer is applied after the mask.
What can Medifacial treat?
Dull skin: Skin that appears lifeless and worn out can be revived with a medifacial, bringing back its natural shine and vigor.
Uneven Skin Tone and Texture: The procedure helps to even out skin tone, reduce pore size, and enhance skin texture for a smoother, more refined complexion.
Dehydrated Skin: The Medifacial replenishes dehydrated and dry skin with deep hydration, leaving it supple, plump, and refreshed.
Wrinkles and Fine Lines: The procedure can assist in minimizing wrinkles and fine lines, resulting in a more youthful appearance.
Sun Damage and Hyperpigmentation: Medifacial can help restore a more uniform and radiant skin tone by addressing sun damage, age spots, and uneven pigmentation.
In our opinion, the basis of beauty is healthy skin. Our MediFacial procedure is intended to enhance your inherent beauty and yield noticeable outcomes. With the expertise of our skincare professionals and the use of high-quality products, you can trust that your skin is in good hands. To learn how Medifacial can improve your skin and give you the complexion you've always wanted, schedule a consultation with us right away.
Contact us to know more about Medifacial